November 2, 2009
A few years ago, I wanted to buy a ruin of a house on a solitary road out beyond the Ragusa cemetery. Sicilian friends (perfectly rational, well-educated ones) said I was matta, insane, that I'd be visited at night by dead souls.
"What do you mean?" I hollered. "I live two blocks from a cemetery in the US and I've never seen a ghost!"
They looked at me mournfully and insisted that the danger was real. They themselves would absolutely never pay me a visit there!
So I gave up the idea of that house with its faded pink walls, shocked at how alive the dead are in Sicily.
Sicilian cemeteries are always set well outside of town behind imposing walls. Below is the Scicli cemetery, full of mausoleums, magnificent pines and tall cypress.
Cemeteries here are well-tended, with custodians and on-site florists. They seem to be open most of the day, even during the long lunch break.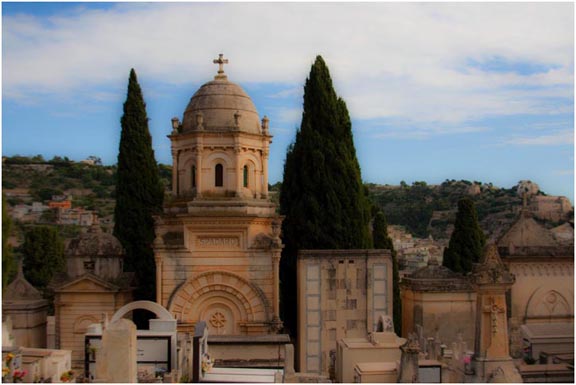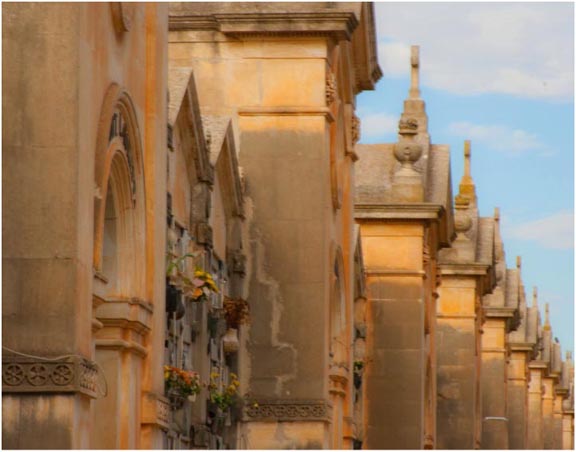 Many of the tombs show pictures of the dead.
Streets have names, just like in a real town.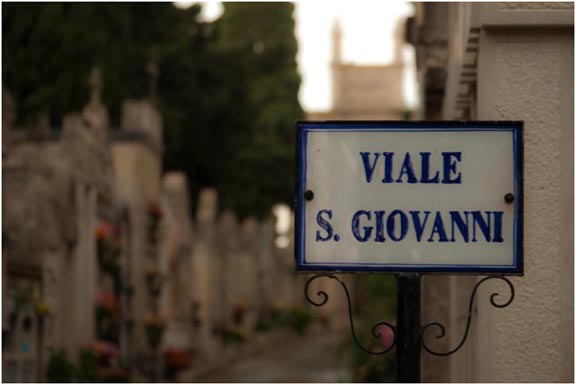 Today is il Giorno dei Morti, Day of the Dead. Sicilian families flock to cemeteries—arms overflowing with lilies, mums, roses, and daisies—to spend time with their dearly departed.