November 11, 2009
After gorging yesterday on focaccia con funghi and cannoli con crema—typical Sicilian fare—I swore I was going to diet today.
But when I swatted away the plastic bead curtain of my local bakery this morning looking for a small roll, a magnificent mound of deep-fried, sugar-dipped fritelle greeted me.
It's November 11, San Martin's Day, the baker patiently explained, and we always eat fritelle on this day. I asked her to put one in my bag.
"With raisins or chocolate?" she asked.
In the name of research, I got both. Here they are precariously perched on the railing of my balcony, against the backdrop of Ragusa Ibla's San Giorgio cathedral.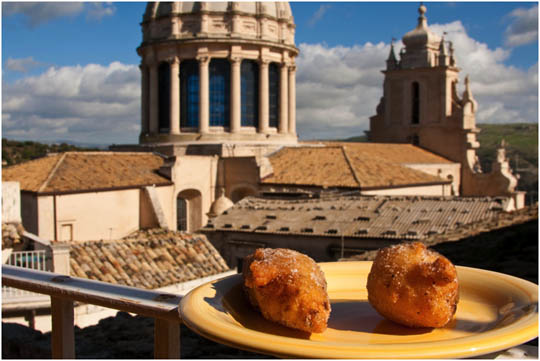 I wish you could hear how wildly the bells are clanging in the bright blue air as I bite into these pillow-soft fritelle. They are like glorified warm donut holes, perfumed with fennel.
On November 11, San Martino, new wine is considered ready to drink for the first time. The new wine should be enjoyed, or so said my smiley baker, with typical Ragusan dishes—ricotta-filled ravioli as a first course, pork chops as a second. And fritelle for dessert. But never mind, I made them my main course and washed them down with an old wine.