December 23, 2009
Happy Holidays, dear Reader. If you're in southeast Sicily at the moment, the Duomo Restaurant in Ragusa Ibla would be a memorable place for a holiday splurge. It's formal, festive and fun. Calme, luxe et volupté.
Chef Ciccio Sultano—the only chef on the island with two Michelin stars—is a humble genius.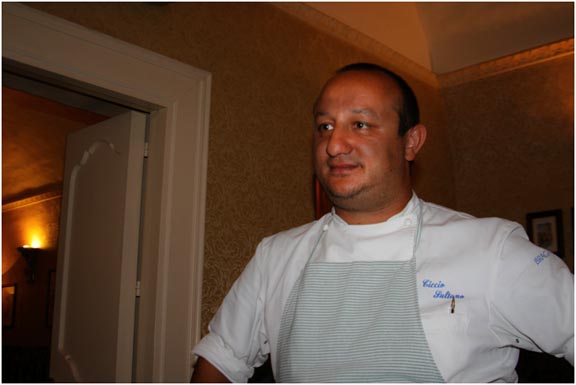 Il Duomo is just behind Ibla's curlicued Baroque cathedral and so close to my house I could lob a fat olive from my balcony and hit it. I've eaten da Ciccio four times and have always emerged elated, sated.
My sister and I celebrated her birthday there in 2007 with one of the prix-fixe tasting menus. I'll never forget a plate called Earth, Sky, and Sea—a lemon-sauced antipasto of rare pigeon and plump oysters on a bed of whipped potatoes. Astounding. I felt a little sad about the pigeon and wondered if he was related to the flock of pink-eyed birds that nest in my roof tiles. Chef Himself made an appearance bearing a vibrant tomato sorbet "to cleanse the palate." Next up: ricotta cheese ravioli in a pasture-green puddle of puréed fava beans. A long parade of goodies ended with carob mousse swimming in ricotta cream and, finally, sorbetto di mandorla, almond sorbet.
In June 2009 I celebrated there with two friends, Rosamund and Roberta. We guzzled a bubbly prosecco so fast that the details of our feast are a bit fuzzy, but who could forget the starter: Sicilian truffle gelato—with black truffles from the Nebrodi Mountains south of Messina—on crostini. I laughed out loud as I picked it up and nibbled it like an ice cream sandwich—crusty-soft and savory-sweet (sounds odd but it was heaven). What kind of a man invents this? Here's a photo—can you see the gelato peaking out from the crostini and truffle slices?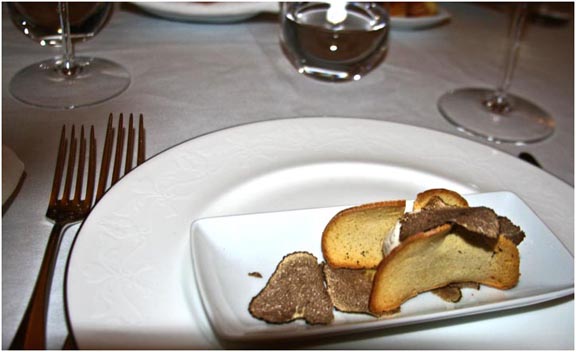 A few hours into the meal, these gorgeous goat chops stuffed with chickpeas, liver and parsley appeared in front of me: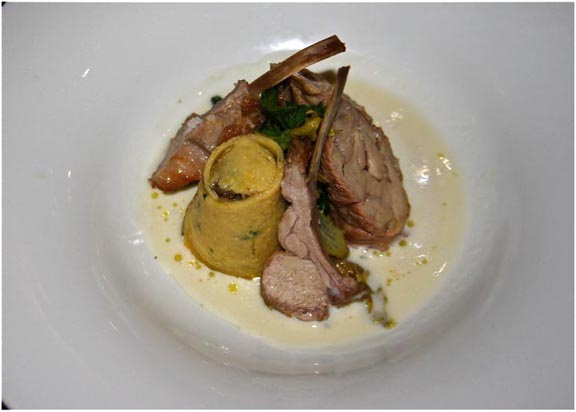 This was Rosamund's seafood dish: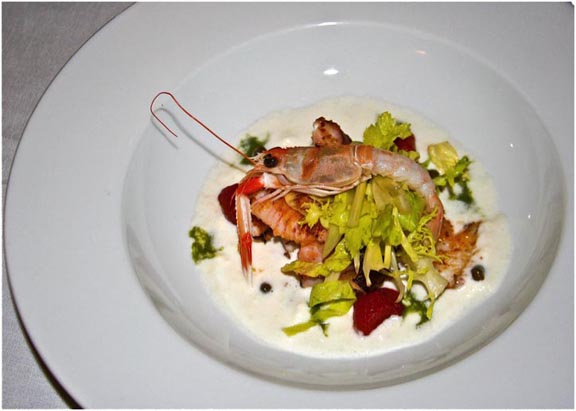 My latest meal there, in October, was equally amazing. The grand-finale nearly killed us—a bianco mangiare alla mandorla served together with a sorbetto di pera con mosto.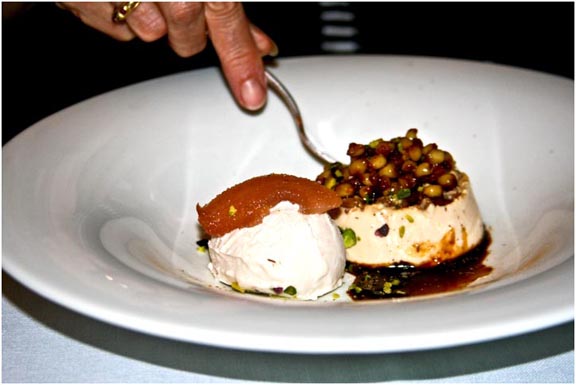 Chef Sultano is known for his innovate approach to Sicilian cuisine, but the creations are not random. "Sperimentare ma nel solco della tradizione," he says. Experiment, but within the groove of tradition. His dishes change according to the seasons.
You can find cooking videos (in Italian) on his website, ristoranteduomo.it, including one for pistachio couscous.
Look at this. I couldn't tell you exactly what it was, but don't you think it's an abstract/painterly/sculptural masterpiece?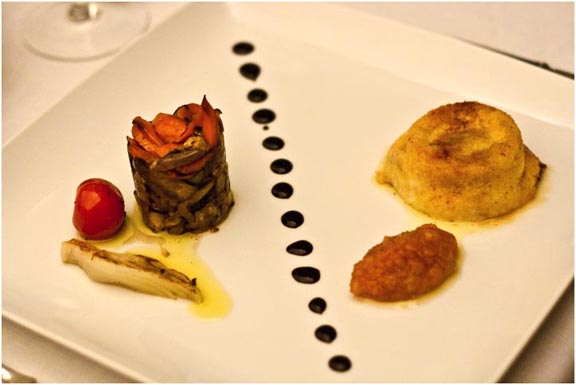 Closed all day Sunday and Mondays at lunch.  Tel. ++39 0932 651265