January 27, 2010
Picture endless groves so laden with blood oranges that the orbs fall with abandon, rolling around in flowering fields and bouncing onto roadways. Fiats and Ferraris roar by, mashing the ruby-red flesh to a bloody pulp.
That's what it's like around Catania this time of year. Etna smokes away in the distance, aloof to the carnage at her feet.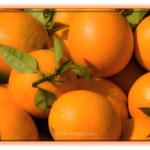 I was surprised the first time I saw what Sicilians do with their luscious blood oranges (besides squashing them on highways). They mix them up with onions and call it a salad!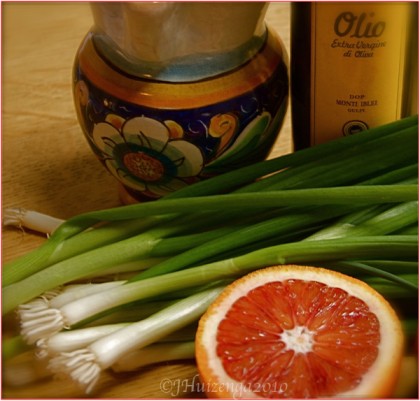 This is all you need for blood orange salad: blood oranges, onions, and a good olive oil. (I found these California blood oranges at Whole Foods.)
Peel the oranges, getting rid of as much of the white pith as you can. Slice them, sprinkle with onions, a good olive oil, and course black pepper, and voilà, you've got the quintessential Sicilian salad.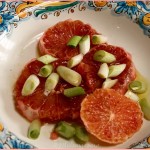 California blood oranges can't quite compare with the Sicilian varieties (Sanguigno, Tarocco and Moro), but they're still pretty good. Substitute thin slices of red onion for spring onions if you prefer.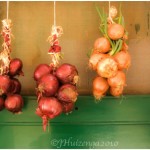 What do you think? Let me know if you try it. Do you have another favorite recipe with blood oranges?
***
Suzette Hodges has written me to share her blood orange recipe. Thanks, Suzette!
Here's a wonderful salad using blood red oranges:
Dice up one blood red orange (large pieces); sliver 1/2 red onion (or any type onion); chop some figs (as much or little as you like); crumble goat cheese; top a plate with spring greens; add each of the ingredients atop the salad, as much or little as you like; drizzle and olive oil/mustard dressing over all. Delicious!!!