February 5, 2010
I don't claim to be the world's best driver. Not by a long shot.
But I never had actual accidents till I started driving in Sicily.
Look at this. It's the center of Ragusa Ibla. Could you squeeze through these streets?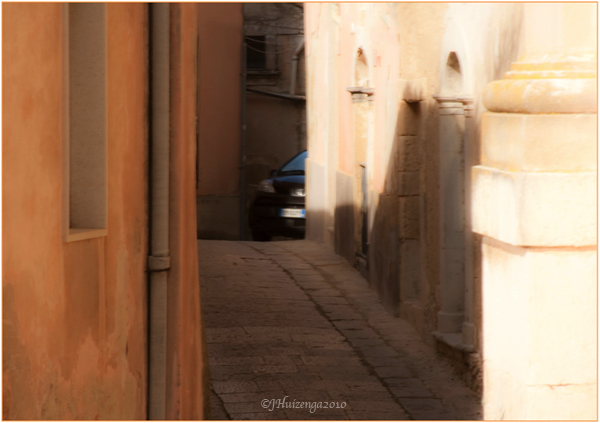 I feel little stabs of fear bumping over the S-shaped lanes of Sicilian hill towns.
I've torn off a side-view mirror or two. A bumper or two. Never hit anybody, though.
You can't blame me. There was this one time when a wall came out of nowhere and hit me. Then there was the time a mirror jutting out from a parked Fiat struck my car.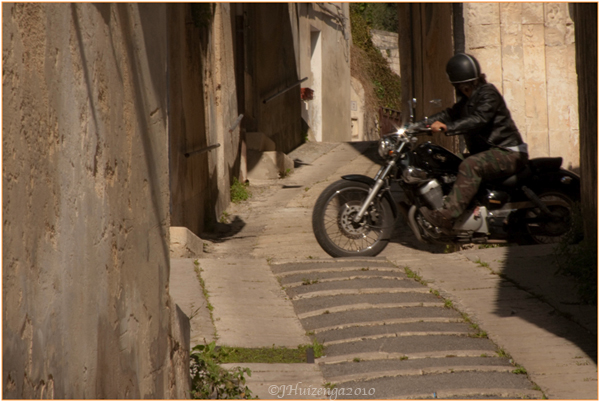 This guy has the right idea. Drive a motorcycle in Sicilian hill towns. It's really the only vehicle that fits.
x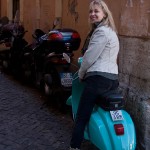 Here I am–a straniera of a certain age–trying on a little Vespa for size. What do you think? Should I? Could I? Darest I?
***
Tourist tip: Get full collision coverage when driving in Sicily. But don't let the idea of driving on the island worry you unnecessarily: it's an absolute joy to drive on the open road in Sicily. By the way, Kemwel is the cheapest car rental consolidator I've found for Sicily. They're professional and fast about following up on accidents and suchlike. Ask for your AAA, ARP, whatever discount AFTER they quote a price.(Just please don't mention me or this post if you contact them! Yikes. They'll never let me rent again. )
x
Click here to subscribe. (It's free.)
xxx
XUWMQDU6YUJN