April 12, 2010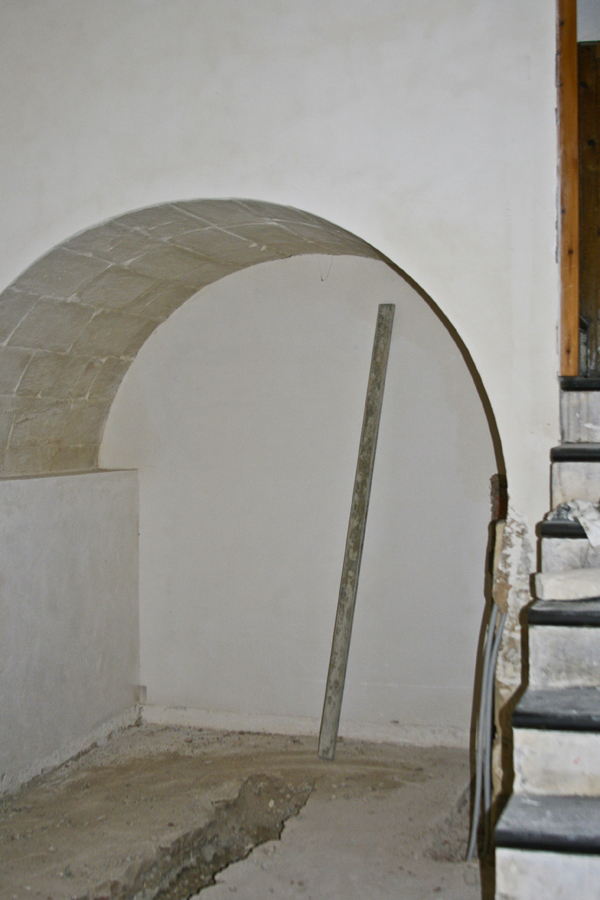 …
Into the cramped space under this arch—hardly big enough for a closet—I plan to stuff an entire bathroom: sink, toilet, shower, heat rack, mirror, towel racks. The project manager is insisting on a bidet (he says no Italian can live without one), but you'd have to put your foot in the bidet to squeeze into the shower.
This is part of the cantina, the old wine cellar that is slowly morphing into guest quarters.
I plan to expose as much stone as possible inside and above the arch. The back wall, which needs to be waterproof, will be a sea of tiny tiles. Tiles the blue of a storm-tossed Ionian Sea.
Beastly expensive tiles.
I knew nothing about the cost when I ordered. I didn't bother to ask the price. I figured: they're just tiles made right here in Italy, not some expensive import. How much could a few little tiles cost?
The boxes finally arrived from Milan, along with the bill. My eyes popped. I had to read it over and over. I could feel my face on fire.
"Well, you ordered glass tiles," the project manager says. What did you expect?"
I did notice how lustrous they were, but I had no idea they were glass.
I thumb through the instruction manual that comes with the tiles. The installation looks complicated. "Are you sure the mason is up to this?" I ask the project manager. The mason seems to have perfected the art of banging and pounding, but I've never seen him do anything delicate with his thick, calloused hands. Do I trust him with my treasures? Has he ever installed anything of the sort?
"Non preoccuparti," says the project manager, winking. Don't worry.
This is the favorite phrase down here. It usually means trouble.
But who am I to argue?
***
..