I love seafood but have always been a fraidy-cat about cooking it myself. I can throw a fillet under the broiler or on the grill and make Ruth Reichl's amazing shrimp curry, but that's about it.
So when Toni Lydecker sent me a copy of her gorgeous new book, Seafood alla Siciliana (Lake Isle Press, 2009) I was excited to expand my repertoire.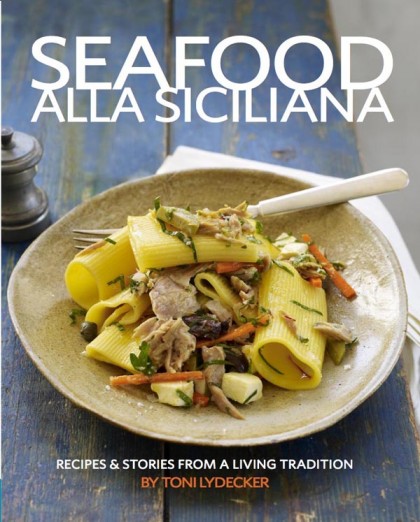 Toni's recipes are super easy to follow and most are short. Exactly what I need to overcome my fish-cooking phobia.
Before sharing the first recipe I tried from Seafood alla Siciliana (a future blog post will feature another), I have some good news:
You can win this cookbook! It's somewhat smaller than coffee-table size, with thick, glossy paper, very pretty photos, and stories about Sicily's cuisine. All you have to do is leave a comment on any of my blog posts between now and May 9, and I'll enter your name for a random drawing on May 10. (You can enter one comment a day, max.) The only hitch is that you must provide a US or Canadian address for the shipping, so my apologies to readers on other continents.
Mahimahi Stewed with Cherry Tomatoes and Capers from Seafood alla Siciliana by Toni Lydecker
(4 servings; prep 10 minutes; cook 20 minutes)
*4  fillets (about 1.5 pounds) cut from medium-firm fish such as mahimahi, bonito, grouper, sea bream, sea bass, cod, or snapper
*sea salt or kosher salt
*1 small onion, chopped
*1/4 cup extra-virgin olive oil
*1 cup halved cherry or grape tomatoes
*1/3 cup Mediterranean olives (optional)
*leaves from 1 or 2 flat-leaf parsley sprigs, chopped
*1 heaping tablespoon salt-preserved capers, soaked in water for several minutes and drained
*hot red pepper flakes
Directions
Sprinkle the fish fillets lightly with salt.
Combine the onion, olive oil, and 1/4 cup water in a skillet large enough to hold the fillets in a single layer. Bring to a boil. Reduce the heat and simmer briskly but not furiously until the onion is tender. Add the tomatoes, olives (if using), parsley, capers, red pepper flakes to taste, and another 1/4 cup water.
Once the cooking liquid returns to a simmer, lay the fillets on top, skin side down. Cover and simmer until the fish is cooked through, about 10 minutes. At this point the tomatoes will have released their juices and there should be a small ladleful of brothy sauce for each serving; if not, remove the fish to a platter, add a little more water and heat briefly. Taste and stir in a bit more salt and pepper flakes if needed.
Ladle the sauce into shallow soup bowls; place a fish fillet in each one.
"Wow," commented my husband. "This looks and tastes like a restaurant dish!" It brought back a bouillabaisse we had last year in Naples.
Really easy. Really lovely. I served it with a crusty baguette and wished only that I'd added a bit more water at the end, as per Toni's instructions.