May 2, 2010
"Where come from?" asks an artisan who stands puffing a cigarette in a doorway in Caltagirone. He looks like a Sicilian baron, with lush lips, an important nose, and hair shiny with pomade.
"The U.S."
"Ah! I have cousin Stefano Battaglia, he live in New Jersey. Maybe you know?"
"No0000. It's a very big place!"
"Take me to America!" the man says with a sudden smile. "America more beautiful than Sicilia."
I wonder why Sicilians always respond like this when I say where I'm from. Are they hungry for a compliment or do they really believe America is a better place?
When I tell him Sicily is più bella, he frowns, like he doesn't believe me.
I'm in Caltagirone for my ceramics fix. Some recent purchases: a fragile pot, pasta bowls, and a holy water font, all in Caltagirone's colors of citrus yellow, Ionian blue, and basil green.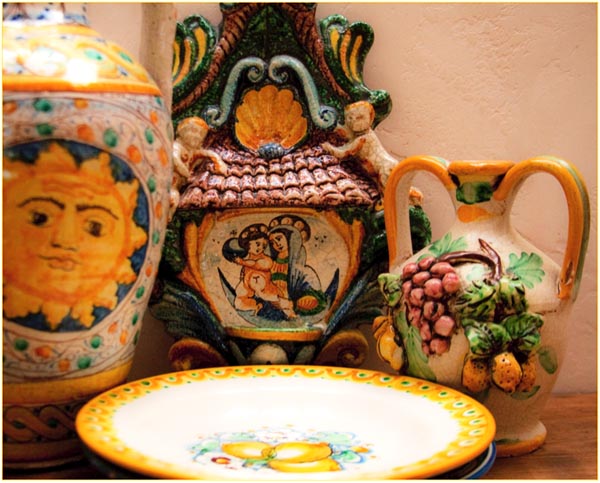 Little mom and pop shops brimming with tiles and jugs and mugs line the famous stairway. The quality varies, and you have to bargain. Some of the best artists are represented in the Palazzoceramico, on your right after you've gone up a handful of steps. There's a museum and a cute coffee shop inside, too.
Or you can fuel up on espresso on the main piazza, Piazza del Municipio. Go up the staircase into the big building with the three arches, and you'll bump into this cafe.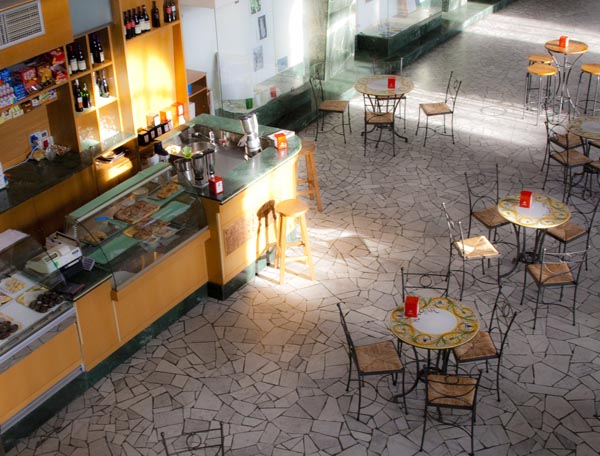 Crane your head upwards and a huge, tangled battle scene with the Moors will come into view.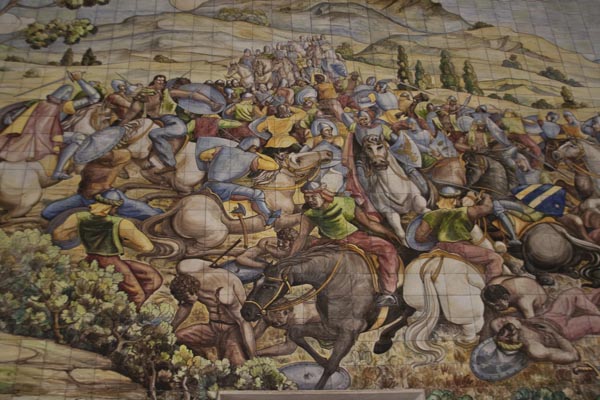 Caltagirone is one of the eight baroque World Heritage Sites in southeast Sicily. It has lush churches, a superb ceramics museum and pretty gardens. Restaurants are few and far between, but I can recommend la Piazzetta for its good quality and prices (try the cool semifreddo with warm chocolate sauce for dessert). Shops close between 1pm and  4pm (of course), but most are open on Sunday.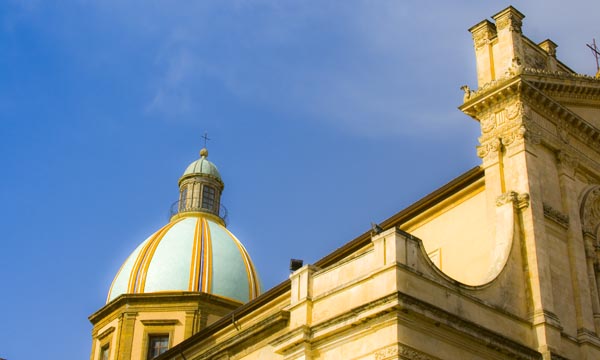 One more thing: Don't forget to strike up a conversation with the charming pensioners standing in clumps all over town.
Have you been? Do you have other recommendations?
***
***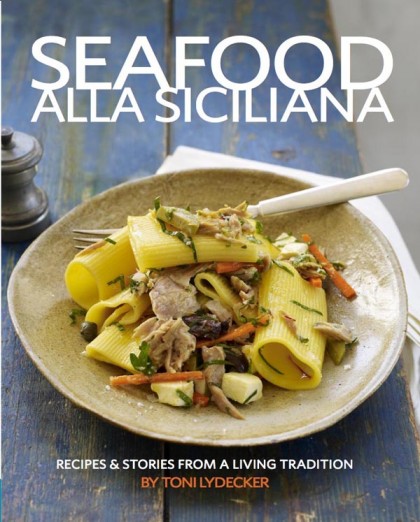 You can win this cookbook!
Toni Lydecker's Seafood alla Siciliana is somewhat smaller than coffee-table size, with thick, glossy paper, wonderful recipes, very pretty photos, and stories about Sicily's cuisine. All you have to do is leave a comment on any of my blog posts between now and May 9, and I'll enter your name for a random drawing on May 10, 2010. (You can enter one comment a day, max.) The only hitch is that you must provide a US or Canadian address for the shipping, so my apologies to readers on other continents.