July 8, 2010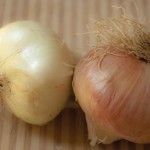 I'm trying to learn the Sicilian art of slow living, so my Sicilian self often sits down for a leisurely hot lunch at midday. Today's was exceptional. Made by moi for moi.
But, really, all the credit goes to Giovanna Giglio, a cooking teacher in Ragusa.
My niece and I took classes with her in June; this is just one of her wonderful recipes. Super easy! Prep and cooking time less than 10 minutes. If you're interested in lessons with Giovanna, contact me. She's fun and inexpensive. Though she says she's "just a housewife who cooks like all other Ragusan housewives," she'll be featured in Saveur magazine next spring baking her Easter breads.
TUNA WITH ONIONS
Ingredients (serves 4)
*fresh tuna fillets for 4 (about a 1/2-inch thick)
*olive oil
*2-4 large onions
*10-15 cherry tomatoes
*capers
*fresh oregano
*salt and pepper
1. Coat the tuna fillets lightly with flour. This will allow the fish to cook quickly and will seal in the juices. Heat olive oil in a large frying pan. Cook the tuna for a minute or two on each side until golden. Remove from pan.
2. Cut the onions in half and then cut them thinly into moon-shaped pieces (they're pretty this way but can also be sliced any which way). Add them to the oil and juices already in the pan (add a bit more oil if needed). Fry until slightly wilted and golden.
3. Add the cherry tomatoes to the pan until they soften (you can mush them with a fork).
4. Add capers to taste. If you're using salt-preserved capers, be sure to rinse them before adding. (I used to be caper-phobic, but now that I know to rinse these babies, I'm quite smitten.)
5. Put the tuna back into the frying pan, add the fresh oregano, salt and pepper and let everything simmer for a few minutes so that the tuna is infused with the flavor of the other ingredients.
6. Remove everything to a serving platter. The dish is good served hot, but even better served at room temperature. (You can let the tuna sit out for a couple hours. Refrigerate if you're going to serve it the next day.)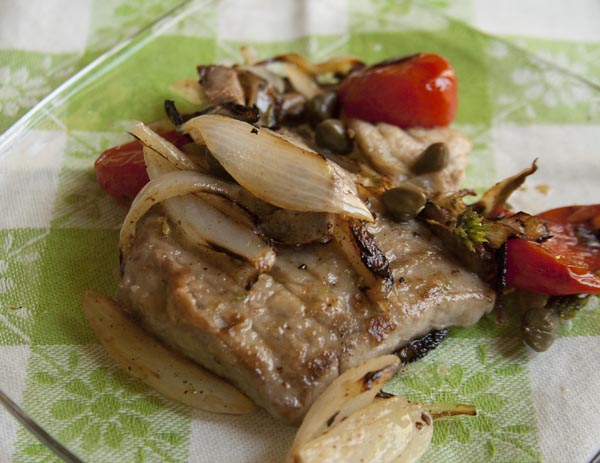 ***