August 30, 2010
I have met the enemy, and he is the cannolo. Not just any old cannolo, but the heart-stopping, moan-inducing ones at Trattoria Al Molo in Donnalucata, on the southern shores of Sicily. I'd like to die eating one of their cannoli. Does this make sense?
What words can describe it?  When you sink your teeth through the crispy-light crust, an orange-flower-infused ricotta comes bursting forth, perfuming your entire mouth. Your eyelids grow heavy and you sway like the sea. Even days later, I'm crazy mad with the memory.
This cannolo is slim and delicate, unlike the pipe-bomb cannoli you find in Brooklyn, or Palermo. And by the way, do you know how the cannolo got its name? The dough used to be molded around canna, cane (reeds) such as these.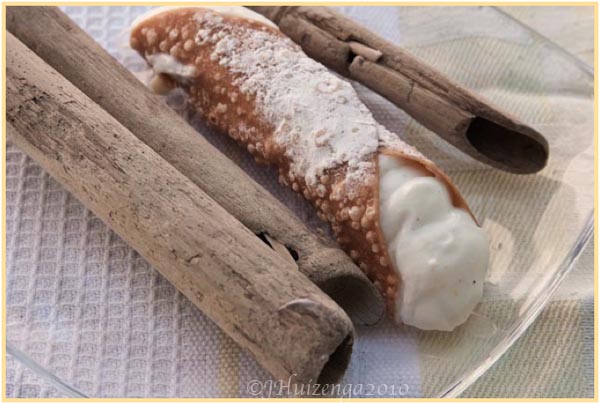 Sicilian cannoli once protected against evil spirits and symbolized fertility. Now they have their own Facebook page. Hal Licino claims that Sicily's best cannoli are found on the western end of the island, calling EuroBar in tiny Dattilo near Trapani the "Ultimate Altar of Cannolidom." Hal, have you never been to Donnalucata?
***
PS At Al Molo (an unchic place, 0932-937710) sample the razza alla stemperata (sweet and sour stingray).  You know what to order for dessert.