January 31, 2011
I spied a lonely old oil jar lurking in a corner of Piero's antique shop. "Pick me, pick me!" it breathed.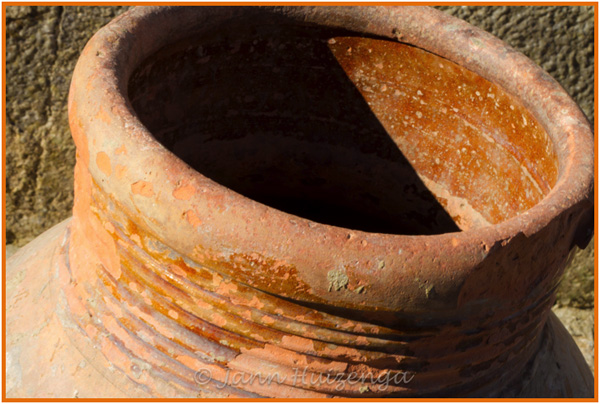 And so I did. It has found love in my bright kitchen. Dating from the late 1800s and used by Sicilians until about 1950, this jar isn't much different from the ones the Greeks–who introduced olive trees to Sicily millenia ago–used for storing olive oil.
It wasn't expensive. Everything in the antique shop owned by Piero Occhipinti (literally Peter Painted Eyes) is reasonable, and it's the only such shop in Ragusa Ibla. (Of course you have to bargain, like you do for most everything in Sicily.) If you cannot make it to a Sunday flea market while you're in Southeast Sicily, visiting Piero's shop is a good substitute. He sells distressed violins, old books, baroque candlesticks, ornate desks, faded old pottery from Caltagirone. He's rummaged around Sicily's antique fairs since he was 10, so he knows what he's doing.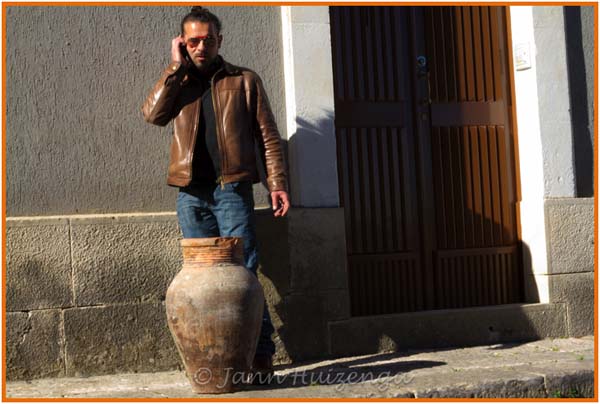 By the way, girls, Piero is single and looking…  (And not just for old Sicilian treasures.)
***
Piero Occhipinti Antiques, 335.539.6735, Via le Margherita, 11, Ragusa Ibla, Sicily. If his shop is locked up, you can usually find him refinishing furniture in his nearby laboratory on Via Orfanotrofio 51/53.