February 26, 2011
It was not 8:15  when I took this photo in Palazzolo, but high noon.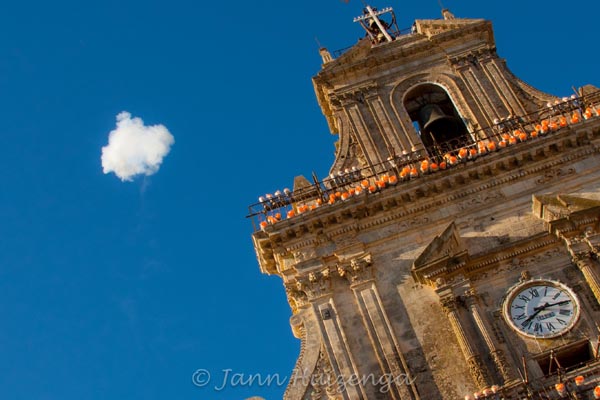 It was not high noon when I took this photo in Ragusa Ibla, but 4:30.
Clocks don't work in Sicily because time doesn't matter.
There is never a race against time, nor do islanders ever have to beat the clock.
Time here is not money (sorry, Ben Franklin).
"On time" is an alien concept, and doing absolutely nothing is never considered a waste of time.
Il Dolce Far Niente. The Sweet Doing of Nothing.
When I  have ants in my pants, islanders fix me with wide eyes and say this: Pazienza. Ogni cosa a so tempu, Everything has its time.
Yes, Sicily is teaching me to linger, to absorb, and to sloooooooow waaaaaaaaay dooooooooown.
***
And what did you linger over today? When was the last time you tried a little Dolce Far Niente?
***