January 15, 2012
Who is this guy?
What's in his arms?
I screech to a halt.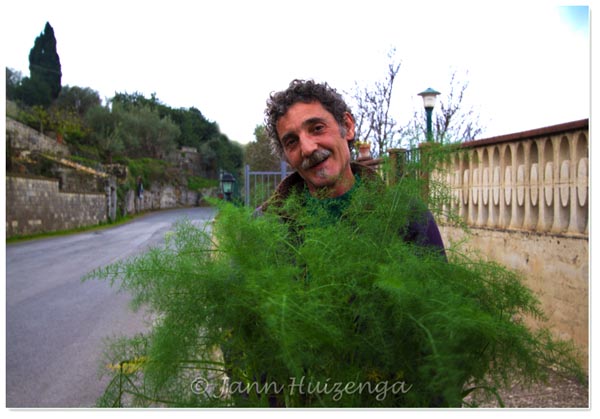 What's in his arms is a bundle of dreams.
But I don't care about that yet. I just want to know what he's picked alongside the road because Sicilians are always picking stuff alongside the road, and dammit, I wanna know how to survive on wild edibles, too.
It's fennel. I breathe in the sweet licorice-y scent.
"It grows wild year round in Sicily," Alfio says. "I make pizza with fennel, and pasta con le sarde. Come on over sometime and I'll make you pizza."
Right there on the road, with my emergency lights flashing, Alfio (pet name for Alfredo, he says) recounts his life and his dreams. He's an out-of-work chef. Italy's economic crisis has hit Sicily hard. But Alfio hopes to open a macrobiotic restaurant, a fancy-pants one, with a Mediterranean twist and plenty of fennel.
"Non vedo l'ora" I say, I do not see the hour (meaning: "I can't wait"), and  climb back into the car with a sprig of fennel pressed against my nose.
Good luck, Alfio!
***
Click to subscribe to BaroqueSicily.