July 31, 2012
The fabulous Susan Van Allen has updated her 100 Places In Italy Every Woman Should Go, adding budget tips, maps, and online resources to a wonderful list of must-see spots.
You can win this book! To have your name tossed into the hat, just drop a comment on this post before midnight on August 3 EST. You can just say hi, or you can tell us what your favorite place is in Italy (or if you've never been to Italy, tell us where you wanna go). Or explain why you must have this book. The contest is open to everyone; if your name is picked from the hat, Susan will send the book to you even if you live at the ends of the Earth.
Grazie Susan, and complimenti!!!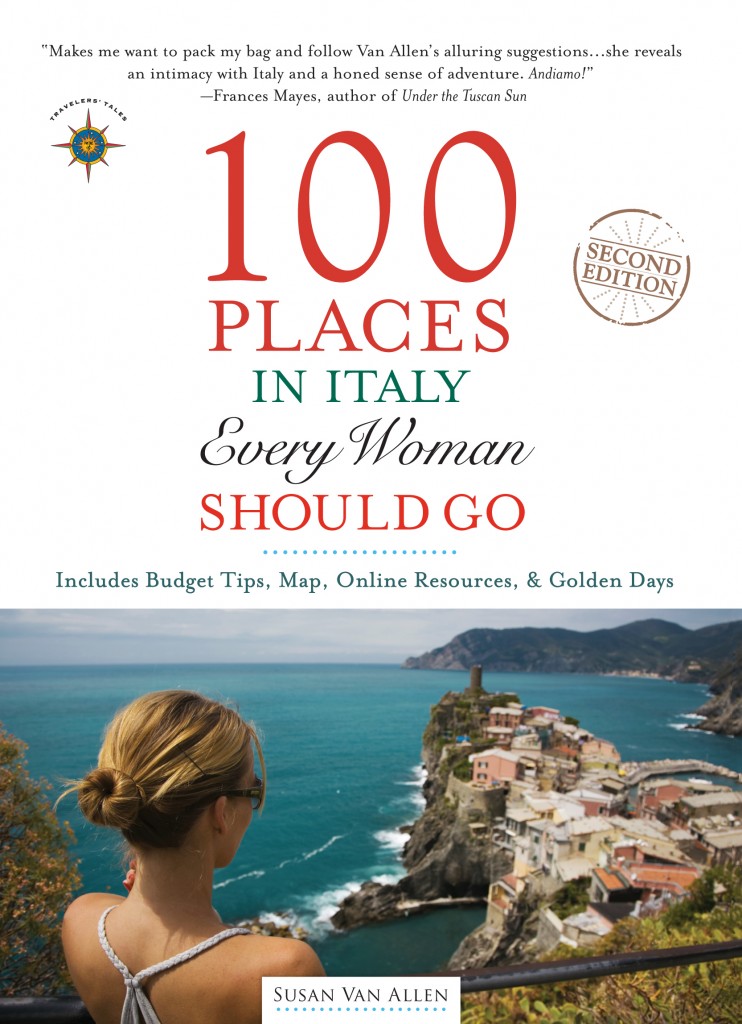 Advice from Susan Van Allen…
Go Solo. Italy is a fantastic place to wander solo, following your very own desires. As Italians are such wonderfully social people, you'll rarely find yourself feeling lonely….If you are on your own and would like to break up your solo time, log on to Lonely Planet's Thorntree (www.lonelyplanet.com), CouchSurfing (www.couchsurfing.com) or Connecting Solo Travelers Network (www.cstn.org) to find out who else is around that you could meet up with. Or you could join a group tour that's focused on an active adventure, sightseeing, or a workshop that focuses on your interests. In other words, "I have no one to go with," doesn't have to be an obstacle to your Italian travel dreams.
Flirting. There's a shrink in New York who prescribes a trip to Italy for women who need a boost to their self-esteem. Italian men have mastered the art of flirting—it's one of the country's masterpieces. Females of all ages are adored here. Enjoy, without taking it too seriously. It's all in the spirit of: You are women, we are men. We are alive! And what a fun game we play! If you get harassment rather than flirting, a loud "Vai Via" ("Go Away") is the age-old stopper, and it usually works.
***
PS. Susan is offering a "Golden Week in Tuscany" for women only from November 3-10. Check it out here.
***