_________________
Jann Huizenga is a photographer and writer who lives part-time in Sicily. The island cast such a spell on her that in 2007 she bought a damp house with an old green door in Ragusa Ibla—a stony village where lemons roll in the streets and bees grow fat as hummingbirds, where the local gelateria offers up cream of anise and petal of rose, where public clocks as well as people are way behind schedule, where street names are snatches of poetry: Orphanage Alley, Shadow Way, Laurel Lane, Dark Lane, Street of Chillblains, Street of Ballads, Street of Sighs.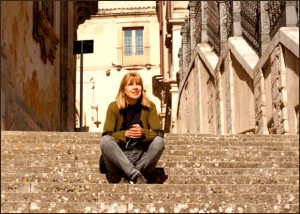 Jann's work has appeared in The Best Travel Writing 2010, The Best Women's Travel Writing 2009, Transitions Abroad, and elsewhere. She's won Grand Prizes in the 2009 Mikel Essery travel writing competition, the 2008 Wanderlust and Lipstick travel story competition, and the 2007 Book Passage Conference Travel Writer's contest as well as a handful of Solas Awards. She has co-authored  Taste and Tradition: A Culinary Journey through Northern and Central Italy (Silvana Editoriale, 2010) and is at work on a memoir about moving to Sicily.
When not in Sicily, she lives in Santa Fe, NM with her husband, Kim Crowley, whose work can be seen at sculpturebasis.com.