If you're visiting southeast Sicily and want to get a peek at the recent lifestyle of Sicily's bluebloods, I recommend a visit to Donnafugata Castello, 20 kilometers outside of Ragusa toward Santa Croce Camerina.
Set in rolling countryside among rocks and giant carob trees, the castle dates back to the mid-17th century. You'll wonder where exactly you've arrived when the gracious Venetian-style facade looms into view.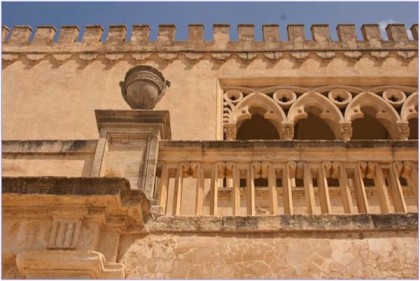 In the mid 19th-century, the Baron of Donnafugata built the Neo-Gothic castle onto the 17th-century extant core. A half-century later, the southern facade was broken through to insert a replica of the Venetian Gothic arcade of the Palace of Popes at Viterbo. A Neoclassical temple was added in the garden. This fascinating amalgam of styles is further confused by the lush, gilded, trompe-l'oeil Baroque interior.
Hours
Donnafugata Castle is open to visitors, usually from 9am to 1pm, though Sunday hours are somewhat longer. Closed Mondays. Please call 0932.619333 to check on the hours, as museum hours in Sicily tend to be flexible.
Additional tips:
1) Have lunch at Trattoria al Castello attached to the castle. (It's the one on your left as you are looking toward the castle.) Call first for reservations (932 619260). Order 2 things: the Ragusan scacce (focaccie) and the ravioli di ricotta. The portions are huge, so if you're two, order just these and split them.
2) There's a good little gelato shop on-site.
3) See Chaos (also called Kaos), the Taviani Brothers' film adaptation of four Pirandello's stories. "The Jar" story was filmed at Donnafugata.
4) Please note that this castle should not be confused with the one of the same name featured in Lampedusa's classic novel The Leopard.
5) You may want to visit the archeological museum at Kamerina while you're in the area. The nearby ruins themselves are unapproachable for the time being due to a lack of museum funds.