Visitors to Sicily, listen up: there are so many taste treats on the Island of the Sun that it's hard to choose, but make a special effort to sample these delights:
1. Pasta alla Norma
Sicilians grow up eating this scrumptious dish. Legend has it that a Sicilian chef was so taken with Bellini's opera "Norma," that he created the fried eggplant concoction in the Catania native's honor, tossing in tomatoes, ricotta salata, basil, and garlic. The indescribable flavor of Sicily's veggies makes it special indeed. If you want to try recreating the dish upon your return from the island, here's a simple Americanized version.
2. Pasta con le sarde
This classic Sicilian dish—made with fresh sardines, wild fennel, pine nuts, raisins, and saffron—will allow you to time-travel back a millennium to the days when the Moors ruled Sicily. Pasta con le sarde is on menus from March to September, the period when fresh sardines are piled high in fish markets and wild fennel perfumes the fields.
3. Sicilian summer breakfast: brioche (brioscia) with gelato
For warm weather breakfasts, Sicilians eat ice cream hamburgers—really!—fat globs of gelato inside a warm, buttery brioche bun, knocked back with pitch-black caffè.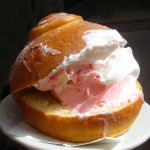 4. Pasta reale
Pasta reale—otherwise known as marzipan or almond paste—is shaped and painted to resemble miniature oranges, lemons, bananas, tomatoes, and every other food you can imagine. Proudly displayed in the vitrines of Sicilian pastry shops, the sweets are guaranteed to make your molars ache.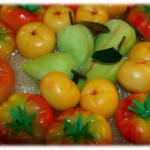 5. Cannoli
The most famous dessert in Sicily is the oozing cannolo—fried pastry stuffed with sweet ricotta. You've no doubt sampled these somewhere, but the real Sicilian version will make you swoon.
6. Mpanatigghi
This traditional "cookie" from Modica in southeast Sicily is stuffed with a paste of chocolate, almonds, sugar, and—odd but true—ground meat. Pick some up at any pastry shop in Modica, but they're best from Antica Dolceria Bonajuto.
7. Pesce spada (swordfish)
Swordfish are taken by hand-thrown harpoons in the Strait of Messina. Cooked in many elaborate ways on the island, fresh swordfish is best, in my opinion, simply grilled and drizzled with Sicily's oil and lemon juice. Unforgettable.
8. All other seafood
Mussels, inky squid, shrimp, tuna, red mullet, and on and on.
9. Gelato and granita
Whether or not gelato and granita originated from the snows of Mount Etna, as legend has it, they're simply fantastic in Sicily. These gelaterie and cafes are especially recommended: Caffè Sicilia in Noto, Gelati Divini in Ragusa Ibla, and Irrera in Messina. There's an infinite number of gelato flavors, including carob, rose petal, jasmine, pistacchio, and marsala. Granita, like a gourmet slushy, is most-often flavored with lemon or coffee.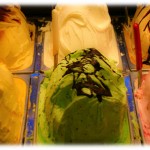 10. Wine
Sicilian wines are on the march, rapidly gaining popularity and prestige. Cerasuolo di Vittoria, a red made in southeast Sicily, is a blend of Nero d'Avola and Frappato. Some of the best versions, in my opinion, are from Cos or Planeta wineries. Also see this review in The Independent or this in-depth article about Sicily's noble vintners.
***
The above list is much too short. Let's not forget caciocavallo Ragusano (a firm cheese from Ragusa); almond milk (latte di mandorla); limoncello; sweet-sour caponata; arancini (golden orbs of fried rice and cheese); warm ricotta (served at countryside masserie in terracotta bowls);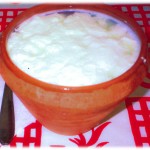 cassata siciliana (a decadent cake); Pachino tomatoes; fresh-squeezed blood-orange juice (spremuta); olive oils from Chiaramonte; honey of a thousand flowers (millefiori); anything made with pistacchio nuts from Bronte, and poached bull penises from the Vucceria market in Palermo. Buon appetito!