February 8, 2010
Here's an easy Sicily-inspired recipe for you, courtesy of Karen Covey, a Boston-based food blogger, recipe developer, and creator of Gourmet Recipes for One,  a website featuring simple, healthy, luscious recipes focusing on cooking for 1.
Why did you start your website?
Karen:
Out of necessity. I was going through a divorce and I'd stopped cooking, something that I've loved to do since I was a child. The idea of cooking for myself didn't seem as appealing as cooking for someone else, and paired with the emotional place I was in, I simply stopped cooking altogether. One day I woke up and realized I needed to start again, and so the idea for the website was born. It was really my way of creating recipes for myself and documenting them. I hope to  publish a cookbook later this year.
You took a trip to Sicily recently. What impressed you the most about Sicilian food?
Karen: I went to Sicily last fall and absolutely fell in love with it. I was staying in a private villa surrounded by lemon and olive trees and it was simply magical. I loved experiencing the food culture: going to the markets every day to see what was fresh and trying all the local ingredients like pistachios, olive oil (my favorite), gelato and granita and capone (the local white fish I based this recipe on). Everything was so fresh and delicious.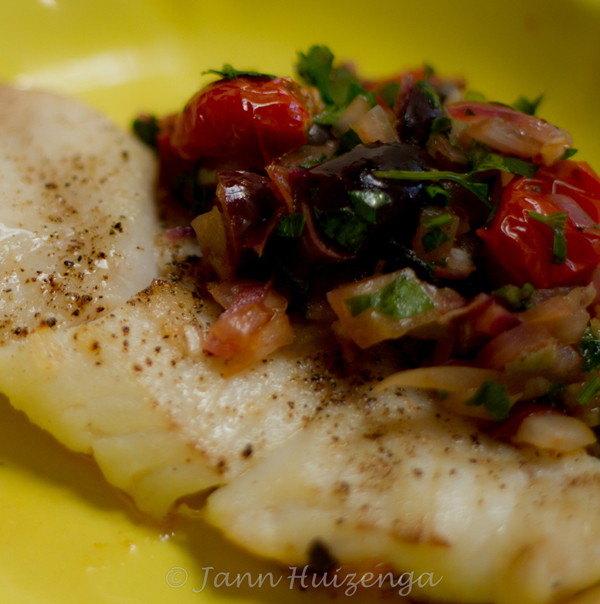 The Recipe (1 serving)
Roasted Puttanesca Sauce
5 cherry tomatoes
1/4 cup red onion, diced
1 tablespoon extra virgin olive oil
Salt, to taste
Freshly ground black pepper
1 small garlic clove, finely minced
1 teaspoon red wine vinegar
1 teaspoon chopped capers, drained
5 pitted kalamata olives, roughly chopped
1 teaspoon minced flat-leaf parsley
xxx
Cooking spray, for greasing
6 ounces fresh white fish (cod, scrod or haddock)
Salt, to taste
Freshly ground black pepper
xxx
1. Preheat oven to 425°F. Place tomatoes and red onion on a baking sheet and toss with olive oil and season with salt and pepper. Roast for 20-25 minutes, turning occasionally until vegetables are softened. Remove and set aside to cool slightly.
2. Reduce oven temperature to 350°F.
3. Spray baking pan with cooking spray and add fish. Season fish with salt and pepper and bake for 10-12 minutes, until fish is firm and cooked through.
4. Meanwhile, chop tomatoes into smaller pieces and transfer tomatoes and red onion to a medium bowl. Add garlic, vinegar, capers, olives and parsley and toss together to combine.
5. Transfer fish to a serving plate and top with sauce. Serve warm.
***Enjoy!***